Tuesday Mar 17, 2020
A Tuna Fishing Duo , Saving Lives!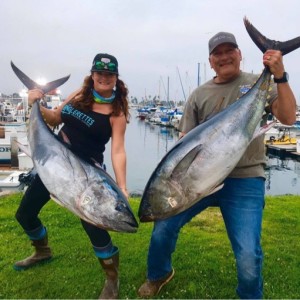 Thanks to Lori Heath and Robert Tressler for being a guest on RodnReelGirls Podcast today! This was an exceptional podcast and quite an honor for me! I have followed Lori on social media for quite some time as she has done the same for me!
Both her and Robert spend quite a bit of time reeling in some pretty big tuna near their California home! They are both avid anglers.
Lori Heath is an inspiration to me as we all know fishing for tuna is no easy task. I certainly look forward to spending a day or so with Lori in her home state of California reeling in a bucket list fish, as well as hosting her and Robert on a fishing trip in his native home for specks and reds.
Fishing light tackle for Lori will be a breeze.
The real exception to this podcast is the fact Robert Tressler is Vice President of the San Diego Blood Bank and they are in dire need of blood donations! Please listen to the podcast and understand how fishing is a universal language and bonds so many of us together in a time of need! Whether you are in California or Louisiana, your local blood bank needs your help!
Click on the link below and see how safe it is to donate blood and how desperately your help is needed!
Since Robert is a native of Louisiana we have a plan in the works to get Lori down South to fish with some light tackle once we persevere through this crisis!
https://www.facebook.com/sdbloodbank/ 3636 Gateway Center Ave Unit 100 San Diego, CA 92102 United States https://www.sandiegobloodbank.org/ 1-619-400-8251